Training
Hangoolnews;- Qof ayaa lagu toogtay gobolka Oregon ee dalka Mareykanka xilli taageerayaasha madaxweyne Trump iyo dhaqdhaqaaqa cadaalad doonka ah ee dadka madow ay isku farasaareen halkaas.
Muuqaalo halkaas laga soo duubay waxaa ay muujinayaan shaqaalaha gurmadka degdega oo isku dayaya inay badbaadiyaan nin u muuqday caddaan.
Booliiska Portland wax faahfaahin kama aanay bixin toogashadan, mana aysan caddeyn in ay xiriir toos ah la leedahay isku dhacyadan ka dhacay faras magaalaha Portland.
Toogashada ayaa timid xilli ay bartamaha magaaladaas isku dhacyo ku dhex marayaan taageerayaasha madaxweyne Trump iyo dibadbaxyaaasha dhaqdhaqaaq dadka madow.
Dibadbaxyo joogto ah ayaa todobaadyadii la soo dhaafay buux dhaafiyey waddooyinka waaweyn ee magaalada Portland.
Magaaladan ayaa xuddun u noqotay dibadbaxyo looga soo horjeedo midab takoorka iyo gaboodfallada booliiska tan iyo markii 25-kii May magaalada Minneapolis lagu dilay George Floyd.
Dhacdadaas ayaa waxaa ka dhashay mawjado caro ah oo ka dhacay guud ahaan Maraykanka.
Ciidama heer fedraal ah ayaa Madaxweyne Trump wuxuu bishii July u diray magaalada Portland, tallaabadaas oo lagu tilmaamay mid looga hortagayo qalalaaso halkaas ka dhaca. Taageerayaasha Trump ayaa iyaguna isu soo baxyo xiriir ah ka wada magaaladaas.
War qoraal ah oo fiidnimadii sabtida ka soo baxay booliiska Portland ayaa lagu sheegay: " in saraakiisha booliiska ee magaaladaasi ay maqleen rasaas ka dhacaysa Waddo ku taal Koonfurta-Bari ee magaaladaas ayna booliisku rasaas kale ku jawaabeen halkaasna ay waxyeello ka soo soo gaartay hal qof oo rayid ah oo xabaadka rasaastu ka haleeshay.
Saraakiisha caafimaadka waxaa ay markii dambe sheegeen in qofkaas uu u geeriyooday dhaawaci soo gaaray.
Muuqaal kale oo la helay waxaa uu muujinayaa booliska oo isku dayaya inay qabtaan nin la socday ninka la toogtay.
Maxay arrinta ka bilaabatay?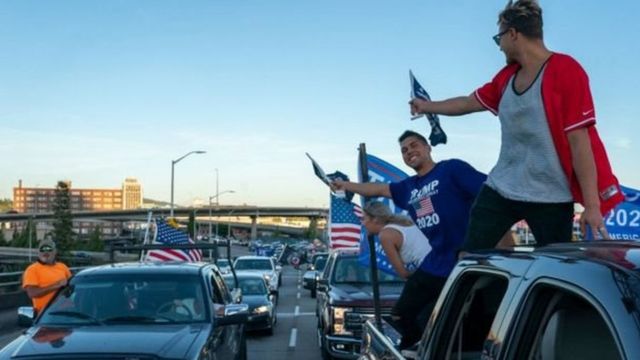 Rasasata la riday ayaa timid xilli xiisad ay u dhaxeyso tagaeerayaasha madaxweyne Donald Trump iyo dhaqdhaqaaqa cadaalad doonka ah ee dadka madow ay ka taagan tahay bartamaha magaalada.
Xiisadda ayaa sare u kacday kadib markii kolonyo baabuur ah oo lagu qiyaasay 600 oo ay saaran yihiin dad gaaraya kun qof oo ah taageerayaahsa madaxweyne Trump oo sita waraaqo iyo funaanado ay ku xardhan yihiin sawirka madaxweyne Trump ay isugu soo baxeen fagaaro ku yaala deegaanka Clackamas kahor inta aanay gudaha u gelin bartamaha Portland.
Booliska waxaa kale oo ay sheegeen in "rabshado aan sidaa u badneyn uu dhexmaray labada dhinac, qaar kamid ah dadkii dibadbaxa ka qeyb qaatayna xabsiga loo taxaabay.
Waxay arrintan dhacday xilli dhawana shirweynaha xisbiga Jamhuuriga madaxwene Trump loogu doortay in uu uga qeybgalo doorashada soo socota ee la filayo in Mareykanka ay ka dhacdo horraanta bisha Nofembar.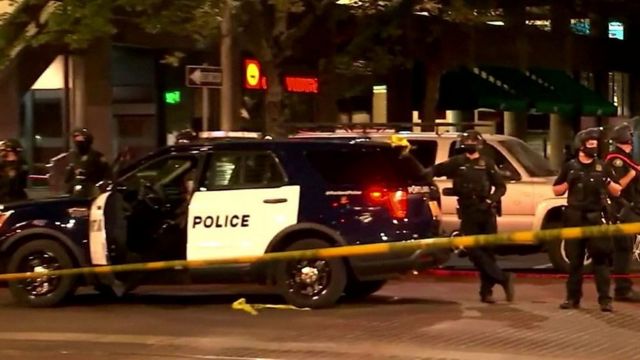 Haseyeeshee Trump ayaa markii uu jeedinayay khudbadda aqbalidda musharaxnimada, waxaa uu magaalada Portland ku tilmaamay magaalo ay dimuqraadiga ku badan yihiin oo u saaxiib ah "bililiqo, rabshado iyo degenaansho la'aan".
Sidoo kale rabshadahan iyo toogashadan ayaa dhacday xilli magaalada Wisconsin ee dalka Mareykanka lagu dilay qof madow ah.
Jacob Blake ayaa waxaa soo gaaray dhawaac aad u daran, kadib markii booliska ay toddobo xabadood kaga dhufteen dhabarka xilli uu sii galayay baabuur.
Madaxweyne Trump ayaa la filayaa in uu booqdo halka ay wax ka dhaceen.
Dibadbaxyo ka dhacay Portland oo looga soo horjeeday dilkii George Floyd ayaa waxaa hareeyay qalalaaso, in la burburiyay hanti badan iyo eedeyn loo jeediyay booliska oo ah in ay dhibaateeyaan dadka rayidka.
South Sudan Jobs is the place for jobseekers to find the job of their dreams and for recruiters to advertise their vacancies to find/reach the right candidates, easily and cost-effectively.
South Sudan Jobs was founded in December 2015. The main objectives of maintaining this website is to have a comprehensive and easily accessible platform for South Sudanese Job Seekers. We are connecting employers and job seekers in the South Sudan region and Africa as well.
We aim to help South Sudan job seekers to conveniently browse all jobs available in South Sudan region and those that other nationals are eligible to apply for, such jobs include jobs in UN Agencies, International NGOs and those around the Africa, and East Africa countries, especially in South Sudan Regions.
So tell a friend about  southsudanjobs.net, find us on Twitter, like us on Facebook, link up with us on LinkedIn, and do whatever it is people do on Google Plus – help us spread the word. Together we can make an impact.
Please stay tuned to southsudanjobs.net for more blog posts, career advice and interviews with global professionals. southsudanjobs.net is not just a job-board, it is a community. Before I finish, all of us at southsudanjobs.net would like to thank all our partners, sponsors and employers for the help and effort they have put in so far. Thank you for reading and stay tuned for more from us at southsudanjobs.net.